Windows are often an overlooked upgrade, but they shouldn't be. Windows are like the eyes of your home, welcoming in visitors and bringing openness and light into your space. It's shocking how much windows can do to the look of your home, and many customers are surprised to see the dramatic improvement when their project is complete. Here are eight reasons to upgrade your home's eyes:
Helps with curb appeal – Boost your curb appeal by replacing old, outdated, and unattractive windows with new, contemporary, clear windows. This is even more important if you have broken windows, which screams deferred maintenance to all who drive by. New windows are worth the investment just for the curb appeal boost alone.
Increase energy efficiency – Get rid of draftiness and air leaks with new, energy-efficient windows. Not only will it feel nicer in your home, but you'll save money on heating and cooling bills throughout the year. And, bonus, they're better for the environment because you're not wasting energy on cooling/heating the neighborhood.
Control outside noise – If you've ever lived in an older home on a busy street with original, single-paned windows, you know how loud it can be inside. New windows are designed with noise-control features and make a world of difference to the peace and quiet inside your home.
Enjoy the new view – Even if you clean old windows often, they are likely still covered with scratches, foggy sections, or hard-to-remove dirt. New windows will be clear and bright and makes the view of the outside world much more beautiful. Often, new windows will make the space feel bigger because of the natural light streaming in.
Increase security – Break-ins are generally easier with older windows. New windows are stronger and can come with double locks and interlocks to maximize safety. Intruders will have a harder time breaking high-impact resistant glass on modern windows.
Safer and easier to use – New windows have many options. Some have a tilt-in feature or easy-removal capabilities so cleaning them becomes a breeze. They're also easier to get open in case of emergencies such as a house fire. (Don't worry – we mean easier to get out of the house, but not so much for an intruder to get in.)
More comfortable indoors – Newer windows will make a drastic difference in the temperature of your home, especially if you're going from very old single-paned windows. If you replace your windows and still feel unusual draftiness, you may need thermal imaging services to see what else is going on.
Adds value to your home – Whether you plan to sell your home or not, new windows will add value to your home's worth. And if you are planning to list your home, many realtors and appraisers will suggest replacing windows if they're outdated enough because buyers will likely ask for replacements as a concession in their offer.
Window replacement may not be the most inexpensive choice, but the benefits pack a punch. For the highest quality work, trust in RAM Builders Stucco & Exteriors.
Spring has sprung, and it's the season of rebirth and regrowth. Continue the feeling by bringing the new to the exterior of your home, too. The exterior of your home is the first impression everyone gets, and you want to spend some time working on the curb appeal. Here are some suggestions for some spring updates for your home:
Architectural Accents
Adding some architectural accents can be as budget-friendly or extensive as you want. With durable foam options, you can choose any design and style you want. Create an appealing style upgrade around your windows, add some decorative columns along a porch or patio, or bring a customized casting design to explore a variety of creative options. Accents can bring a whole new level of sophistication to a home's exterior.
Updating Paint Colors
Painting portions, or all, of your home can dramatically change the look of your home. Painting brick has been popular for a while, and we don't see it going out of style ever. Brick homes are beautiful, but if you hate the color, it's not as big of a project to change as you might think. Painting old brick can freshen up a home in a big way. Stucco is very easy to repaint and looks amazing. Whatever the exterior of your home is, if you want a color switch, it's doable. And spring is just the time to do it.
Repair and Patch Stucco
Stucco is a popular material in Utah, and it's a great product. When taken care of, it can look beautiful for a very long time. Take some time to assess your stucco and see if there are any problems arising. Patchwork is relatively easy and doing it before anything major happens will prevent you from having to spend a lot of money later for problems that eventually lead inside, too.
Replace Wood Siding with Stucco
If your home has old wood siding, consider replacing it with stucco, which is easy to maintain. Wood siding is lovely, but it requires quite a bit of care and maintenance. If you've had enough of that, replacing it with stucco can update your home while also making it easier to maintain for throughout the future.
Waterproof Decks and Make Repairs
You'll soon be gathering outside now that warmer weather is upon us. Wooden decks require some annual maintenance to keep them looking great and lasting a long time. With Utah's weather patterns, you want to stay up on the maintenance for your wood decking. Keep up on repairs and you'll have a useable deck for years to enjoy.
Consider Your Concrete
If you currently have concrete areas of your home, check them out and see if they need any overlays, lifting, or repairs. If you'd like to add some concrete space in your yard, now is a great time to get your project on the books. RAM Builders is happy to address concrete projects large and small. This spring don't forget the exterior of your home when you start the spring cleaning process.
Soffit and Fascia are more than just a visual structure to finish off the look of a home. They also help to keep pests out of your attic and protect your home from water and weather damage. Soffit refers to the component underneath the rafter tails running from the side of the home to the edge of the eaves. Fascia refers to the exposed visible part at the end of the rafter that creates a barrier between the roof's edge and the outside. Soffit and Fascia are typically made from wood, aluminum, or vinyl. We recommend using metal for this portion of the home because it's durable in our climate, creates a tight yet flexible seal, and doesn't require paint touchups like wood does.
Why Aluminum is the Best Choice
Aluminum is a great material for soffit and fascia because it's lightweight, can be easily cut, is able to fit various angles, and is durable. It requires little to no maintenance for your eaves, and with baked-enamel paint, they won't rust or need to be repainted every few years. Wood can get damaged easily and is vulnerable to moisture issues and leaking. Warping, rotting, and crumbling are all common problems with wood soffit and fascia, especially in our climate. Vinyl is a better option than wood, but it can crack due to temperature fluctuations or pull away from the home resulting in gaps that can let water in. If left untreated, the entire gutter system will eventually get loose and possibly detach from the roof, creating a safety hazard and an expensive fix.
Aluminum is hearty enough to remain durable and strong during Utah's weather shifts while also being light and easy to work with. It's a great choice if your home has an exceptionally high-pitched roof because it creates an airtight seal around areas where water leak potential is high. Aluminum is also non-combustible, meaning it isn't going to catch on fire very easily, unlike wood. This adds another layer of protection to your home.
Your pocketbook will thank you, and not just because you'll save money on unnecessary damage and repairs. The tight seal of aluminum provides a more efficient flow of air within your home, so your HVAC system will run more effectively. (This also helps prevent the formation of icicles and ice dams on your roof—see our other blog for why you don't want these.)
This part of your home needs to be installed correctly. If soffit and fascia are attached too tightly, the aluminum can ripple or bow, or it can expand and break as temperatures fluctuate. Ensure your new soffit and fascia withstands the test of time by getting it installed by a professional company with experience in Utah's climate. RAM Builders does all our work on-site which means we can customize as needed and make sure the job is done in a timely manner. For the best soffit and fascia work in Utah, reach out to us anytime.
Here at RAM Builders, we do a lot of exterior work. From stucco to brick, roofs to windows, and everything in between, we handle it all. Utah has some intense weather patterns, and these patterns can wreak havoc on a home's exterior. Water in unwanted places in and around your home is not a good thing. Sometimes these liquid issues seep inside the home, but don't worry. We can repair damage inside your home as well as outside. Whether you left sprinklers on for too long or mother nature took her toll, RAM Builders can help.
Dry Rot Damage
We see a lot of homes along the Wasatch Front with dry rot damages. Dry rot is when the wood inside or outside your home has decayed, generally by a fungus, which diminishes the strength of the wood. Repairing the dry rot is only part of the solution process. Afterward, repair of the drywall must take place. Drywall repairs may seem like an easy DIY project, but there are a lot of considerations to keep in mind before tackling this task. Experienced drywall repair specialists know how to repair and install drywall so that you can't see the seams or the heads of the drywall screws popping out. They can see the big picture from start to finish. For a seamless and smooth look, trust a pro.
Stucco Leaks
Utah is fairly dry overall, but we do see heavy rainfall occasionally and very heavy, wet snow in the winter months. Stucco leaks are common, especially if it was installed poorly. (To prevent poor installation, call RAM Builders to make sure it's done right!) When water gets underneath stucco, it softens the stucco and creates bubbles or cracks. Stay on top of the health of your stucco by getting it assessed annually and paying attention to any signs of wear throughout the year. If you didn't notice water leaks in your stucco outside, you're sure to notice the issue once it gets inside your home. It's common to see drywall damage especially around the head of windows if the exterior stucco has failed. You'll need to get the leaking areas repaired outside as soon as possible then have an expert make sure the fixed drywall inside is faultless and durable. To tackle the entire project with ease and proficiency, give us a call.
When fixing drywall, it's important to ensure paint colors and wall textures match and that all seams are flawless. RAM Builders is meticulous, and our crew is clean and respectful of your property. An experienced team like ours will get the job done quickly and efficiently without any stress of the "what ifs" or the worry of if the job is done right. If you notice any leaking or rotting issues on the outside or inside of your home, get in touch with us today. The longer these issues are put off, the bigger the repair project will be. Check out our client testimonials to see all the great things Utahns have to say about us.
There are numerous ways to improve your home, and two areas that provide a great return on investment are upgrading windows and upgrading exterior doors. These enhancements are beneficial for anyone looking to improve the aesthetic of their home as well as efficiency. It's easy to paint your front door, and that can be an appealing and quick update, but if your door is old, it may be letting out a lot of air from your home. A common dad line is: "I'm not paying to cool down (or heat up) the entire neighborhood!" but that's what a lot of homes are doing without us realizing it.
Benefits of Door Upgrades
Leaking doors don't always need to be replaced. Sometimes they can be fixed with the proper application of tools and professional installation. For example, a metal or vinyl door pan can be added below a door threshold to reduce drafting or water infiltration possibilities. After the appropriate fixes, RAM Builders can paint or stain the door to make it look beautiful as well as function efficiently. Installing a new door may be needed for many reasons ranging from security needs to design desires. Three-point locking systems are common on newer doors, providing peace of mind to your family.
Over time, sliding doors can become stiff, making them hard to open and close. Large sliding glass doors that are single pane let out a lot of air from the inside of your home, making them very inefficient. Upgrading to a high-quality sliding door will reduce frustrations and will save you money immediately. Mother Nature will thank you, too. Your doors get a lot of wear and tear, making it one area that you don't want to cut corners.
Benefits of Window Upgrades
Windows are a valuable upgrade for any home of any age. Older homes with original windows likely have resources constantly flowing out of the glass wasting your hard-earned money. Additionally, your home may sound louder with the inefficient windows letting in outside noises. New windows have a lot of benefits that go beyond efficiency and looks. They improve the comfort in your home by preventing drafts and excess dust to seep in and they can be easier to clean with a number of upgraded design options. Plus, they also make it a more pleasant experience for you to look outside while watching the weather roll by or the kids play in the yard. Many older homes have small windows, making the inside of the home feel dark. We can expand those windows creating much-desired light and openness for your home.
Window companies are common around Utah, but don't get taken advantage of. You want to pick a reputable and experienced company to ensure your windows are installed correctly and in a timely fashion. Often, it's not the cheapest or fastest option you want, especially when it comes to an important upgrade like this. RAM Builders can update and upgrade anything the outside of your home needs. No matter the size of the job, call us today for a free assessment and quote.
Listing your home? Curb appeal is in the top five priorities for most buyers in Utah. We know we're not supposed to judge a book by its cover, but it's a tendency of humans to get a little stuck on first impressions. The exterior of your home is the first things buyers see. In their minds, if the outside doesn't look well maintained and taken care of, the inside probably looks the same. Often this isn't the case but keeping up on the exterior of your home will do nothing but add value and charm to it, and it will draw wanted attention when it comes time to put it on the market. This doesn't necessarily mean that you have to do a full exterior remodel to get showings. Sometimes all it takes is solid yard upkeep, power washing your porch and driveway, and cleaning out the gutters. But if your house is indeed in need of some repairs, it's better to get on it right away before bigger problems arise. Plus, if you're selling your home, the buyers will likely add necessary repairs into their offer, which means you may need to fix it before close or take it off the sell price anyway.
What to Look Out For
If you have stucco on your home, it's natural for some wear and tear to happen due to Utah's varied climate. Cracks let in moisture and can cause extensive damage if not remedied. Even if your stucco looks good, it's imperative that you get an independent stucco inspection in case something is lurking below that surface that you may notice. Before listing a home, get your exterior checked out if you have any concerns at all.
Another spot to check is your chimney area. This area often goes unnoticed until it's too late. What we often see is a failure with the caulking on chimney caps, which allows water come in. Water is never your friend when it comes to the structure of your house, and rotting is an expensive yet necessary fix. Assess your chimneys yearly to see if everything is sealed off and secure.
Roof repairs are common amendment items on home purchasing contracts. Roof repairs can be localized to just the problem area, but sometimes repairs are extensive enough to require a full roof replacement. Make sure you get an honest company that won't cover up problems but will take the time to fix projects with the right materials to ensure the job is done correctly.
When it comes to your deck or patios, if it's made of wood, it must be protected properly. Water finds its way through any flat surface, and we all know standing water and wood decks do not mix. With proper protectants and durable sealing, decks can stay beautiful and problem free for many years.
Final Touches
Before you pull together some pretty décor outside, make sure your major structural aspects are in good condition first. Covering up problems never work out, so be sure to tackle any concerns you have before you put your home on the market.
Stucco is a common exterior finishing in Utah due to its ability to withstand the high heat in the summer and the extreme cold in the winter and with its high resistance to water damage. Stucco is also very affordable and looks amazing for years when installed by a professional. There are numerous color options for stucco exteriors, and because it's so affordable, it's easy to update later on if you want to try a new look as trends come and go.
Real estate in Utah is booming with new homes being built all over the state. If you're building a home or renovating, you can't go wrong with a beautiful stucco exterior. There are several finishing options to choose from such as worm finishes with tiny indents and grooves, smooth finishes that have a clean European look, sand finishes that are simple and familiar, or lace finishing, which is the most common style you've most likely seen before, and even more.
Warm wood tones, creamy whites, dark grays, and bronzes are predicted to be hot choices for home exteriors throughout 2021 and 2022. Whether you have the gorgeous Wasatch Mountains as your backdrop or the stunning red rocks around central and southern Utah, a classic black or dark gray trim with white stucco is one very popular option right now, yet also timeless. The high contrast in this finishing is eye-catching and can be especially appealing on a new home. On the contrary, a white on white can be just as stunning. There are a million shades of white that can be beautiful when paired together appropriately. Combining two different shades of white with your stucco and trim creates a soothing look for your exterior style.
With stucco, you can easily showcase your bold and artistic flare with numerous color choices. Navy with a bright white trim can be truly elegant. By pairing a dark color such as navy or green with a thin neutral white trim will keep the attention where you want it while also creating clean lines and finishes. Red shades pair very well with wood elements and darker trims, creating a welcoming, warm exterior that is also eye-catching. In Utah, a rich red stucco looks especially amazing against the greenery in the spring and summer as well as the white snow in the winter. Our team of experts can help you decide on what color combinations speak to you while also informing you of what's trending.
RAM Builders has your back when it comes to your home's stucco exterior anywhere in Utah. We keep up on current trends and understand the importance of a timeless look, which allows us to proficiently assist you from the initial color and finishing style selection process to the final application. Our crew consists of employees rather than mostly subcontractors, so you can trust that we are highly trained and committed to our projects. Our employees are clean, efficient, and knowledgeable about everything stucco (and more!).
A leak in your roof is usually related to the way the felt papers or roof underlayment were installed prior to shingle installation.
It's common for people to try to fix leaks on a roof by placing sealant over the exterior of the shingles. This may work in situations where a hole formed after the roof shingles were installed, otherwise the only way to permanently fix a roof is to remove the shingles, fix the roof felt and underlayment, then install new shingles.
To fix a leak that is coming in where the roof and another part of the homes exterior meet usually requires removal of the shingles and the adjacent part of the homes exterior. In this situation, the problem is probably related to the way the homes exterior underpayment and the roofs underlayment tie together.
When fixing a leak it's pretty common to see the two different exterior claddings underpayments just butt into each other, rather than overlap.
If you have a leak, either in the roof or where the roof meets another part of your homes exterior, sealant probably won't be a permanent solution. Only removal of the shingles and adjacent exterior cladding will allow you fully address the problem.
Ram Builders specializes in remedial construction projects such as these. Our ongoing association with top building scientists and forensic engineers gives us the unique knowledge to fix these types of leaks the right way! Contact us for a free quote.
Window leaks are more common than you would think.
Hidden Damage
When your home has a construction problem, most people want the quickest, cheapest, and easiest fix. If you're told by the handyman that it can be fixed for $50, why spend $500 with a specialized contractor? Many people do not put a high value on our home when it comes to repairs, and we're guilty of it, too! After all, who wants to dump money into a project that gives you no return?
No one thinks they have a major problem. It's a small amount of water collecting on the window sill, bubbled paint, or damp carpet that generates the phone call. The scary thing is that a window could have a serious leak and you would never know it.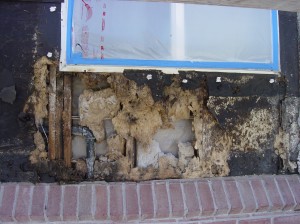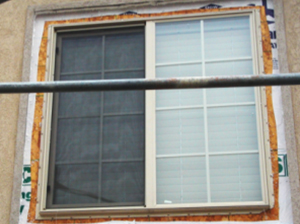 Window Replacement…..fail
We are not always the first company to get the phone call when a home owner thinks there is a problem with their windows. Window replacement companies have been 'fixing' window leaks for years. Cut out the old window, slam in the new, and a bead of cheap caulk is the only defense from water intrusion.
On many occasions we have been called out to look at at a home where windows were previously replaced by another contractor. When we show up and see a flush fin or 'Z' bar window installed over the exterior cladding, or a window caulked to the exterior cladding, the answer can be hard to swallow: "Sorry ma'am, but the $30,000 you just spent to replace your windows was a complete waste of money and now you have to throw them away and start over."
Window Replacement Companies
It does not matter what type of exterior cladding you have when trying to decide what to do with your windows. Whether it's stucco, siding, stone or EIFS, the method of repair should be the same. If you use the cut and caulk method to replace your windows, it is not a permanent fix and often times you will create a much more serious problem.
I hear the 'used car sales approach' from siding and window replacement companies on the radio all the time; "Simply the Best for Less" is a commonly heard slogan on our local talk radio station. Window replacement companies are in the business of selling you new windows. They do not make money on the labor and cannot use proper methods because the cost would be way too high for most homeowners. Offering the "Best for Less" should be saved for the local used car salesmen.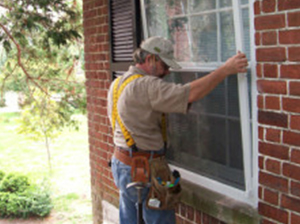 The Proper Approach to Window Replacement and Leaks
Many times when we arrived at a home with leaking windows, we will see caulk smeared all over the exterior of home. Attempts to caulk the window to the exterior cladding will not fix the problem. It is important to remember that the vapor and moisture barrier on your home is what keeps water out, not caulk. (to learn more about this, watch our video "What's Happening behind your Stucco").
When you cut through the barrier or existing window flashing, you will leave an avenue for moisture entry no matter how much caulk you try to pump into the gaps. The process of tying in the window frame with the moisture barrier is done using specific window flashing materials. The only way to truly replace your windows, or fix a leaking window, is to tear off the exterior cladding around each window and properly integrate the moisture barrier with approved window flashing material and sealant. This process is not easy, and is often costly when working on existing homes. If builders would pay closer attention to the installation of the windows during original construction, the problems we see with window installation could be reversed for very little additional cost. I do not believe that Home Builders skip the important steps when installing windows to save money. Ignorance is generally the real problem. Knowledge = the competent builder.