Stucco is a popular choice for exteriors in Utah. If you're building a home and are narrowing down the many exterior options or looking to renovate your current stucco, you may be struggling to pick a style for your stucco's finish. Here's a quick low down of the different finish options to help you make your decision:
Dash Finish: This finish is also called Roughcast. It's one of the most popular options throughout Utah, and a great choice for any style of home. It looks a little like textured, small gravel and you can choose from light to dense in terms of coarseness depending on your preferences.
Skip-trowel Finish: This finish is also called Spanish Lace. It's another popular finish found throughout Utah and looks lovely with the two-coat process with a forgiving texture. It hides imperfections well and ranges from fine to coarse in pattern.
Santa Barbara Finish: This is a smooth-style finish that is a little difficult to apply but looks amazing. It's highly customizable and is easy to clean. Adding color to this style can be done directly to the wall and gives it a mottled look. Maintenance is a bit higher with this stucco finish, but the beautiful finished look may be worth it.
Cat Face Finish: This finish is also called Montalvo or California. You will recognize this finish by its overall smoothness with patches of rough areas that can range from small to large. The method is done with two layers—the first layer is a rough coat and the second is the smooth coat that is applied in a way that allows the rough undercoat to randomly show through.
English Finish: This is one of oldest stucco techniques and it's easy to pick out. The look is a heavily brushed finish and shows like large paint strokes. This style looks great on older, historic homes and is a very durable, classic option.
Sand Finish: This finish is also called Float. It is slightly similar to dash finishes but it's more delicate, creating a finer textured look. You've likely seen this finish on businesses because they repair well and hide imperfections, but they're also great on homes with large areas of stucco sections.
Worm Finish: Worms may not sound appealing, so let's call this groove or swirl finishing. These indentations create a unique look on your home and pairs well with siding. It's not the most popular choice, but that doesn't mean it looks bad—stand out from the crowd with this option. It's done by hand and is time consuming, but with a professional service like RAM Builders and Stucco, you can be sure the job is done right.
Smooth Finish: This creamy and beautiful finish style is the most complex of these options. You'll want an expert to complete this task. Color choices are endless and look beautiful on the smooth surface. It's a high-end look that will turn heads. However, it is difficult to patch when cracks occur, so you'll want to be prepared for maintenance needs for this one.
For any stucco task, our experts can help. Reach out to us for a free estimate.
Here at RAM Builders, we do a lot of exterior work. From stucco to brick, roofs to windows, and everything in between, we handle it all. Utah has some intense weather patterns, and these patterns can wreak havoc on a home's exterior. Water in unwanted places in and around your home is not a good thing. Sometimes these liquid issues seep inside the home, but don't worry. We can repair damage inside your home as well as outside. Whether you left sprinklers on for too long or mother nature took her toll, RAM Builders can help.
Dry Rot Damage
We see a lot of homes along the Wasatch Front with dry rot damages. Dry rot is when the wood inside or outside your home has decayed, generally by a fungus, which diminishes the strength of the wood. Repairing the dry rot is only part of the solution process. Afterward, repair of the drywall must take place. Drywall repairs may seem like an easy DIY project, but there are a lot of considerations to keep in mind before tackling this task. Experienced drywall repair specialists know how to repair and install drywall so that you can't see the seams or the heads of the drywall screws popping out. They can see the big picture from start to finish. For a seamless and smooth look, trust a pro.
Stucco Leaks
Utah is fairly dry overall, but we do see heavy rainfall occasionally and very heavy, wet snow in the winter months. Stucco leaks are common, especially if it was installed poorly. (To prevent poor installation, call RAM Builders to make sure it's done right!) When water gets underneath stucco, it softens the stucco and creates bubbles or cracks. Stay on top of the health of your stucco by getting it assessed annually and paying attention to any signs of wear throughout the year. If you didn't notice water leaks in your stucco outside, you're sure to notice the issue once it gets inside your home. It's common to see drywall damage especially around the head of windows if the exterior stucco has failed. You'll need to get the leaking areas repaired outside as soon as possible then have an expert make sure the fixed drywall inside is faultless and durable. To tackle the entire project with ease and proficiency, give us a call.
When fixing drywall, it's important to ensure paint colors and wall textures match and that all seams are flawless. RAM Builders is meticulous, and our crew is clean and respectful of your property. An experienced team like ours will get the job done quickly and efficiently without any stress of the "what ifs" or the worry of if the job is done right. If you notice any leaking or rotting issues on the outside or inside of your home, get in touch with us today. The longer these issues are put off, the bigger the repair project will be. Check out our client testimonials to see all the great things Utahns have to say about us.
Sure, icicles are pretty. And as kids it was fun to use icicles as swords or find the biggest one to see how heavy it was and show all our friends. But now that we're the ones paying for roof repairs, icicles have lost their magical appeal. Icicles are a sign of poor drainage on your roof, possibly creating major issues such as an ice dam. Take note: you can still have an ice dam on your roof without the presence of icicles.
Factors such as the direction your home faces, the pitch and angles of your roof, and areas where it remains shady for a good part of the day can affect how the snow melts off your roof in the wintertime. The warmth from inside your home can seep out of the roof, which makes the snow melt and drip. You want the snow to melt and fall off your roof, but sometimes this doesn't happen, and the water gets stuck at the eaves and refreezes. An ice dam forms creating a run-off and refreeze cycle that can cause damage to your shingles, gutters, and even inside your home.
If you see icicles forming, respond quickly. You can tap small icicles off your roof before they get too big but be gentle as to not cause more damage. Damage to your roof is an inconvenience, but a personal injury from falling icicles is far worse. Additionally, if you use a ladder to remove icicles, prop it up in a secure location, make sure you don't step on any icy spots, and have someone below you to help out. You may also want to check the insulation inside your home to make sure everything is sealed well. In the fall, clear out your gutters for better drainage pathways.
It's common in Utah to get a big storm with heavy, wet snowpacks. If it's safe to do so, you can climb on your roof and remove the snow with a shovel or rake. Decide beforehand where you want the snow to land as you shovel it off your roof. Don't use ice melt products or ice-breaking tools on your roof—these don't just damage your shingles, they destroy them, forcing you to redo an entire roof.
Being proactive about icicle and ice dam prevention will save you money and headaches in the future. Here at RAM Builders, we can install a self-regulating heat tape on all the potentially problematic places on your roof. Our team knows where problems are typical and can place the tape only where necessary. Self-regulating heat tape turns on once temperatures fall below 40 degrees, which is much of the winter in many places around the Wasatch Front. We use commercial grade heat tape, which means it is GFI protected, doesn't need to be always left off, and is durable. Most tape we see in hardware stores is poorly designed and doesn't work until the temperature falls before 19 degrees. For all home related questions, reach out to us today.
New construction is exciting. Whether you're starting from scratch or remodeling an existing building, you expect you'll end up with something better than what you started with.
But unfortunately, that's not always the case.
New, inexperienced, lazy or poorly managed construction companies can make mistakes, turning your exciting project into a nightmare. When it's your home they're working on, the decision lies with you on how to deal with the aftermath. But when you live in a community with a homeowners association, it's the HOA that makes the decisions, not you.
And far too often, they make the decision to file a lawsuit. If the outcome of a lawsuit was that the wronged parties received restitution, I would be all for it. But I've seen these lawsuits dozens of times, and I can assure you, rarely do I see a happy ending.
Who Would Win? HOA vs. Construction Company
When an HOA files a lawsuit against a construction company for a construction defect, the result is not a pile of cash delivered to the next board meeting on the calendar. These lawsuits can drag on for years. And they're expensive.
Many area Utah law firms will take an HOA's case on a contingency basis, which means the HOA doesn't pay its lawyer until the construction company pays them. Good deal, right? No expenses for the HOA until it gets what it rightfully deserves.
Not exactly.
Legal fees aren't the HOA's only cost. They also have to pay for expert opinions, destructive testing, emergency repairs and engineers as the lawsuit progresses — not after it collects. This can get costly, leaving the HOA in danger of becoming insolvent.
I worked with an HOA in Lehi, Utah, that had to wait 14 years to collect the money they won. Once the law firm took their contingency fee, the HOA didn't have enough left to pay for the repairs the buildings needed. So the HOA prevailed, but they still lost.
The Challenge of Selling with a Pending Lawsuit
Further, the aforementioned lawsuit severely inconvenienced homeowners who couldn't sell their home for the 14 years it was going on. Selling a home that's tied up in a lawsuit can be nearly impossible.
During the time litigation is pending, property value is diminished. Even if the owner could find a buyer and was willing to take less for their home, banks often won't lend money on houses with construction defects.
The homeowner could rent out their unit, but then they would have no equity to apply toward their new home. With dues rising to pay for the lawsuit, it could be hard for them to cover the mortgage and the related expenses on what they collect in rent.
In fact, it can be difficult to pay these expenses even if they don't want to move, as soaring HOA fees can strain a budget until it breaks.
A Better Course of Action
Instead of filing a lawsuit against the construction company, HOAs would be better off repairing the defects on their own.
I know; it sounds unfair. The construction company was at fault; they should make it right. But should and will are two different things, and by making the repairs on their own dime, the HOA will usually end up spending less money.
Not only will they save on legal and expert fees and court costs, but they will be able to make the individual decisions about how to proceed during the repair work. A legal agreement or decision will frequently require the work to be entirely redone, when it could easily be repaired for a fraction of the cost.
If your HOA wants to put the time and effort into a lawsuit, there are steps it can take to mitigate unnecessary inconvenience and expense to residents.
Destructive testing is so-called for a reason — parts of a building that work fine are destroyed in the process of seeing whether they or other parts are sufficient or in need of repair. In performing this necessary step in the lawsuit, further damage is done and residents are made to suffer more.
I was recently on-site at a project where openings had been made in the homes' exteriors as part of destructive testing. While these openings had been patched, not all were patched well, and some leaked. The luckiest residents only had ugly patches on the exterior of their homes; the unlucky ones had leaks to deal with as well.
The shocking part? Residents had been living under these conditions for seven years, as the lawsuit dragged on with no end in sight.
A more sensible solution is to do the repairs at the time of the testing. Expose the issues, document them and fix them. You'll have an exact cost of repairs versus an estimate, and residents won't have to live with leaks or ugly patches.
So even if an HOA is convinced that a lawsuit is the way to go, it should, at the very least, repair the damage as part of the process rather than letting it fester for years, unchecked.
RAM Builders has worked on hundreds of home exteriors along the Wasatch Front since 1996. Some cost millions of dollars and others are starter homes. Regardless, no homeowner likes spending money to tear a home apart and put it back the same way it looked when they bought it. But being able to control when and how it is done makes this tough job a little easier.
Repairing stucco might seem easy, but the work has to be done right or it won't last.Nothing lasts forever, least of all stucco, no matter how skillful the original craftsman was who installed yours in the first place. You will need repairs, the question is when.
If your stucco is compromised, be it from cracks, buckling or other issues, you are going to want to address the problem right away, because the longer you wait, the worse it will get.
Experience Required
When you hire someone to repair your stucco, it should be a company with a history of experience in working specifically with this material. A handyman may be able to mix up some stucco and patch a crack or two, but stucco is not like plaster, and if mistakes are made, they are much more costly with exterior walls than interior ones.
With stucco repair, it's critical to remove all the loose pieces before applying fresh product, just as you must scrape peeling paint before putting on a new coat. Any stucco that's not securely adhered to the lath beneath it should be removed, not just crumbling or cracked areas.
The area to be repaired also should be adequately covered with builder's paper and lath.
Weather Is Key
Repairs should be done in only optimal weather. Freezing temperatures are the enemy of fresh stucco. The material gains its strength in the hardening process, as the water evaporates from the mixture. If the water quickly freezes, the drying process is disturbed. It's important that temperatures stay above 40 degrees, even overnight, during the drying time.
Applying stucco in freezing temperatures causes other problems as well, as the cold makes it difficult for the material to remain pliable, and it tends to stick to itself more than the structure. This can result in a dry, crumbling finish.
Excessive heat is almost as bad, robbing the mixture of its moisture too quickly. If repairs must be made in extreme heat, its best to wait for some shade, if possible, or cover the work area in plastic to help retain moisture.
Mix it Right
If the weather's right and the surface is prepared properly, it's safe to mix and apply the stucco. The mixture has to have just the right proportions, however — it can't just be eyeballed. If it isn't mixed right, it may look OK at first, but it will be more vulnerable to cracking sooner.
Ram Builders can diagnose and quickly repair any problems you are having with your stucco exterior so your building is once again properly protected. When you need stucco repaired correctly, rely on us to do the job right.
Cracking and staining below a chimney cap
The red arrow shows where water is getting through the hole in the chimney cap. The hole was created by the fastener used to hold the cap down. This is a common problem that we have fixed on 100′s of home along the Wasatch Front. The green arrows show the staining and cracking that have been caused by water getting in through the hole in the chimney cap. The roof is also letting water behind the stucco system. This is evident by the staining and cracking that is shown by the blue arrows. Most contractors would just paint or install new stucco finish over the chimney, but without fixing the problem water will continue to get behind the stucco and rot out the 2x framing. In fact the additional layer of paint or stucco used to cover up the symptoms will accelerate the rotting process. Since another layer of paint or stucco will only keep the water trapped behind the stucco.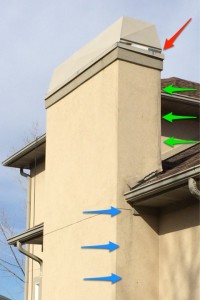 ---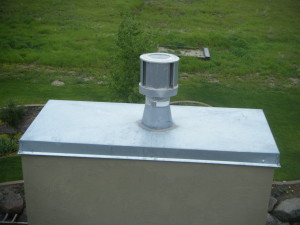 Failed Caulking
The yellow arrows show the common method used for chimney cap installation. A fastener (nail) is placed through the cap, then black caulking is applied over the fastener. This caulking fails and then allows water to get through the hole that the fastener created.
The orange arrow shows where black caulking is placed around the flu pipe that goes through the chimney cap. This black caulking will eventually fail and allow water to pass through the chimney cap and into the fireplace.
---
Properly installed chimney cap
This picture show a chimney cap that was properly building installed. The fasteners were placed through the side of the cap and collar was welded to the chimney cap. No sealant is relied upon to keep water from getting through the cap.