Thermal imaging is a service that is often overlooked, but homeowners shouldn't ignore this helpful benefit. Sometimes your home could have hidden issues, and a thermal imagining inspection can help bring those to light, hopefully before the problem becomes any bigger. Here are some major benefits to getting thermal imaging services:
It can detect pests: When pests or bugs make your house their home, they can cause damage very quickly. Thermal imaging can detect the temperatures of these little critters, cute or not, telling you exactly where they are so you can get rid of them quickly. Nobody wants to get cozied up next to a family of harmful pests in their homes, so if you suspect something has moved in, give us a call so we can find them and you can evict them.
It detects moisture: Moisture in a home can lead to mold, which becomes a health hazard. Moisture and mold tend to show up in darker, air-restricted areas of your home, such as laundry rooms or air ducts. A thermal imagining inspection can detect these hidden spots, making it much easier to adequately deal with the problem.
It helps with energy efficiency: Drafty areas around your home can be costly. With thermal imagining, you can find where those drafts are located and minimize heat/cooling loss and make your home more efficient. It can pinpoint exactly where the problem areas are so you can address only what's needed, saving you money on utility bills and on any necessary repairs. Plus, energy-efficient homes are generally valued more, which means you can likely expect a better sell price on your home when it comes time to list it.
It will detect electrical hotspots: This detection is especially helpful in older homes. Over time, electrical systems begin to erode, which can create hotspots or other issues. These problems can turn into dangerous situations such as a house fire. A thermal imaging inspection will show exactly where these spots are, making it much easier to find where repairs are needed.
It can detect some structural issues: A thermal imaging inspection will show temperature differences in the ceilings, floors, and walls throughout your home. These differences can indicate issues such as damaged structural portions or missing components within the home. Knowing exactly where these issues are will make the repair process much more effective.
It can detect leaks in your roof: A leaking roof is never a good thing, and a thermal imaging inspection will show where moisture may be gathering at specific spots. This information tells the inspector where the roof may be leaking so you can tackle the source of the problem as well as potential water damages inside the home.
Our expert team at RAM Builders not only knows how to perform thermal imaging inspections, but we also know the proper way to tackle the repairs. Don't trust this service to just anyone. Call us with any concerns.
With home prices high and a hot seller's market, it may be tempting to put your house on the market right now. We want to present you with a few reasons to stay put rather than sell. There are many things to consider before moving, so if you're on the fence right now, read this before making any decisions.
Customize Your Current Home
Unless you're planning on a custom build, buying another home will probably not come with everything on your checklist. Choosing to remodel or upgrade your current home can tick off your entire checklist and get all your needs into a new design. Many people choose to move simply because they don't love the curb appeal of their home. It's important that you love the exterior of your home, and even if you feel limited with your current structure, an expert exterior company can show you options you probably never thought were possible.
Stay in the Neighborhood You Love
Many of us get attached to our neighborhood and location. If this is you and you want a more functional home but love where you are, consider a remodel. You don't have to leave your community or force your kids to say goodbye to their friends if you redo the parts of your home that are crucial to your happiness. If you're in an older home and want it to look more modern, there are many upgrades you can do that are cost-effective and will increase your home's value.
Add Value to Your Home
Most remodels and upgrades will add value to your home. This is only true if they're high-quality and professional jobs. You've likely paid down your home over the years already and updating your home in smart ways will build equity and increase the overall value of the home. With such a large investment as a home, you want to make sure you're remodeling projects are done with care and precision to maximize your ROI. Exterior remodels need extra care because if something is done improperly, leaking can occur and cause damage to the inside of the home as well.
You Don't Have to Move All Your Stuff
For many of us, moving isn't the most enjoyable process. Plus, moving expenses can get high quickly, from minor necessary improvements in your current home to make it appealing to buyers to hiring a moving company to help you out. Rather, put these costs that you can't recoup back into the asset that is your home. Avoid the hassle of moving by improving the home you currently have.
Sentimental Reasons
Your memories are what makes a house a home. You've probably had some good and bad times in your home, and it may be hard to leave that all behind. If you feel an attachment to your home and are struggling with the thought of saying goodbye to those memories, consider options for remodeling and upgrades. We can get tied emotionally to a home, and it often feels good to put money into making it nicer for us and future generations.
Here at RAM Builders, we do a lot of exterior work. From stucco to brick, roofs to windows, and everything in between, we handle it all. Utah has some intense weather patterns, and these patterns can wreak havoc on a home's exterior. Water in unwanted places in and around your home is not a good thing. Sometimes these liquid issues seep inside the home, but don't worry. We can repair damage inside your home as well as outside. Whether you left sprinklers on for too long or mother nature took her toll, RAM Builders can help.
Dry Rot Damage
We see a lot of homes along the Wasatch Front with dry rot damages. Dry rot is when the wood inside or outside your home has decayed, generally by a fungus, which diminishes the strength of the wood. Repairing the dry rot is only part of the solution process. Afterward, repair of the drywall must take place. Drywall repairs may seem like an easy DIY project, but there are a lot of considerations to keep in mind before tackling this task. Experienced drywall repair specialists know how to repair and install drywall so that you can't see the seams or the heads of the drywall screws popping out. They can see the big picture from start to finish. For a seamless and smooth look, trust a pro.
Stucco Leaks
Utah is fairly dry overall, but we do see heavy rainfall occasionally and very heavy, wet snow in the winter months. Stucco leaks are common, especially if it was installed poorly. (To prevent poor installation, call RAM Builders to make sure it's done right!) When water gets underneath stucco, it softens the stucco and creates bubbles or cracks. Stay on top of the health of your stucco by getting it assessed annually and paying attention to any signs of wear throughout the year. If you didn't notice water leaks in your stucco outside, you're sure to notice the issue once it gets inside your home. It's common to see drywall damage especially around the head of windows if the exterior stucco has failed. You'll need to get the leaking areas repaired outside as soon as possible then have an expert make sure the fixed drywall inside is faultless and durable. To tackle the entire project with ease and proficiency, give us a call.
When fixing drywall, it's important to ensure paint colors and wall textures match and that all seams are flawless. RAM Builders is meticulous, and our crew is clean and respectful of your property. An experienced team like ours will get the job done quickly and efficiently without any stress of the "what ifs" or the worry of if the job is done right. If you notice any leaking or rotting issues on the outside or inside of your home, get in touch with us today. The longer these issues are put off, the bigger the repair project will be. Check out our client testimonials to see all the great things Utahns have to say about us.
Go to sleep Christmas Eve confident that Santa's sleigh won't crash through your rooftop. Utah's winters are harsh on our homes, and the roof takes on a heavy toll. From wind to heavy, wet snow to freezing temperatures, your roof needs to be in tip-top shape. When that sleigh makes a clatter, you don't want to see that a failing roof was the matter. Roof repairs and replacements should only be performed by highly trained workers. It's common for people to repair roofs with replacing shingles only but a strong roof goes far beyond shingles.
Roof Underlayment
Underneath those pretty shingles is roof underlayment, which is a barrier material installed before shingles that protects the inside of your home. Usually, the material consists of step sheathing, OSB (boards made from ground wood stands with wax and adhesive), or plywood. No matter how great the installation of your shingles is, the roof underlayment should be installed properly to prevent leaks. This is not the place to cut corners. If you have a roof leak and you've been told you only need to replace your shingles, this is likely a mistake. Leaking is often caused by poor roofing underlayment conditions and incorrectly installed flashings. With something as important as the cover protectant of your home, the roof is not the place to sacrifice quality work.
Your roof connects to many features of your home, such as rain gutters, chimneys, and exterior materials like stucco or siding. Care must be emphasized at these connection locations. This can only be done with a team of professionals who truly understand the different elements involved in these processes. Every connection is a chance for a leak. If you're concerned about the condition of your roof, getting a thorough analysis from a reputable company will be your first step. It's usually good to get a few bids and keep in mind, the lowest number is not always the wisest choice. You want a roofer that will be up front about their costs and know that they'll do the job right, not fast and cheap. Santa should be able to stop on your roof for more than 20 years with a good roof installation with asphalt shingles. For metal roofs with proper underlayment, he can feel confident landing his reindeer on them for over 50 years.
Being Festive and Safe
Roofs are often being decked out this time of year with lights and décor. Falls from hanging lights hit over 14,000 last year. Before hanging those lights on your roof, take precautions like getting a new, quality ladder, and don't hang them while it's icy out. We generally don't recommend you getting on top of the roof and walking around to find that perfect placement for Santa's beacon. In addition to fall hazards, walking on asphalt shingles can damage them, so consider a professional if you really want something on your rooftop. You also want to be careful not to damage your home with staple scars or holes while hanging lights; instead use light clips as a safer alternative.
There are numerous ways to improve your home, and two areas that provide a great return on investment are upgrading windows and upgrading exterior doors. These enhancements are beneficial for anyone looking to improve the aesthetic of their home as well as efficiency. It's easy to paint your front door, and that can be an appealing and quick update, but if your door is old, it may be letting out a lot of air from your home. A common dad line is: "I'm not paying to cool down (or heat up) the entire neighborhood!" but that's what a lot of homes are doing without us realizing it.
Benefits of Door Upgrades
Leaking doors don't always need to be replaced. Sometimes they can be fixed with the proper application of tools and professional installation. For example, a metal or vinyl door pan can be added below a door threshold to reduce drafting or water infiltration possibilities. After the appropriate fixes, RAM Builders can paint or stain the door to make it look beautiful as well as function efficiently. Installing a new door may be needed for many reasons ranging from security needs to design desires. Three-point locking systems are common on newer doors, providing peace of mind to your family.
Over time, sliding doors can become stiff, making them hard to open and close. Large sliding glass doors that are single pane let out a lot of air from the inside of your home, making them very inefficient. Upgrading to a high-quality sliding door will reduce frustrations and will save you money immediately. Mother Nature will thank you, too. Your doors get a lot of wear and tear, making it one area that you don't want to cut corners.
Benefits of Window Upgrades
Windows are a valuable upgrade for any home of any age. Older homes with original windows likely have resources constantly flowing out of the glass wasting your hard-earned money. Additionally, your home may sound louder with the inefficient windows letting in outside noises. New windows have a lot of benefits that go beyond efficiency and looks. They improve the comfort in your home by preventing drafts and excess dust to seep in and they can be easier to clean with a number of upgraded design options. Plus, they also make it a more pleasant experience for you to look outside while watching the weather roll by or the kids play in the yard. Many older homes have small windows, making the inside of the home feel dark. We can expand those windows creating much-desired light and openness for your home.
Window companies are common around Utah, but don't get taken advantage of. You want to pick a reputable and experienced company to ensure your windows are installed correctly and in a timely fashion. Often, it's not the cheapest or fastest option you want, especially when it comes to an important upgrade like this. RAM Builders can update and upgrade anything the outside of your home needs. No matter the size of the job, call us today for a free assessment and quote.
Dry rot is like mushrooms. It's a fungus that can get established in wet wood. Dry rot doesn't happen in dry wood, the wood has to be moist. Normally dry rot occurs where there is a water leak entering the home. As the fungus matures, it shrinks and cracks the lumber.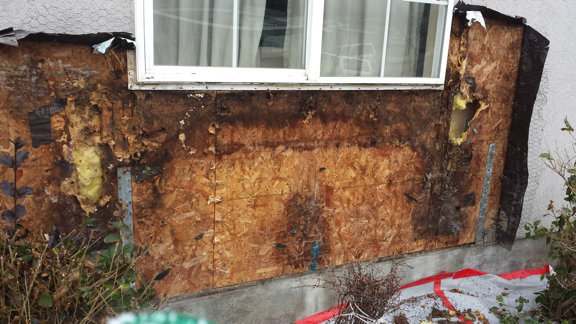 Dormant Stage of Dry Rot
Even after the water source (the leak) has been repaired, the fungus that causes the dry rot will remain. This fungus can survive a wide range of conditions by staying dormant when its too wet or dry. Once the dampness of the wood returns to the ideal range, the dry rot starts to grow again.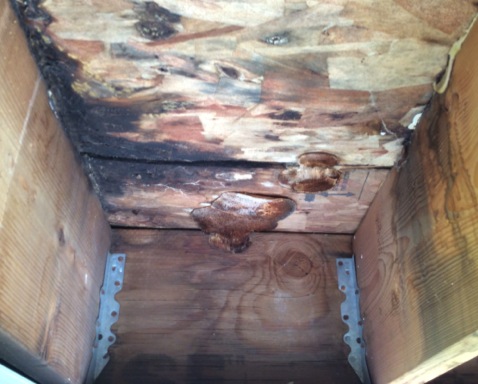 Determining the Cause of the Water Source/Leak
The most important advice for any homeowner with a wet wall problem is before beginning any construction repairs to the dry rot area, be sure that you find the location of the water source/leak and make the proper repairs to eliminate any future problems. The following are some common problems to look out for.
Rot Due to Bad Window Flashings
This type of rot shows up at the lower corners of the windows and spreads out from there. In extreme cases, the entire wall area under the window can be rotten. To solve this problem, the window will need to be removed. At times the said window may need to be replaced due to it being compromised/damaged or a window pan may need to be installed. The window will then be re-installed and correctly flashed.
Rot Due to Missing Kick-Out Flashing or Missing Step Flashings
Improperly constructed connections are a common problem. Keep an eye out for trouble in these locations:
- Eave to wall connection
- Roof to wall connection
- Eave to roof connection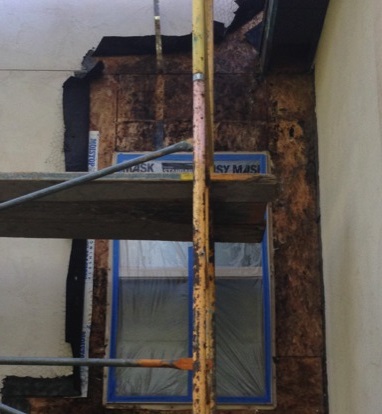 Rot Due to Missing Metal Flashing at a Deck Connection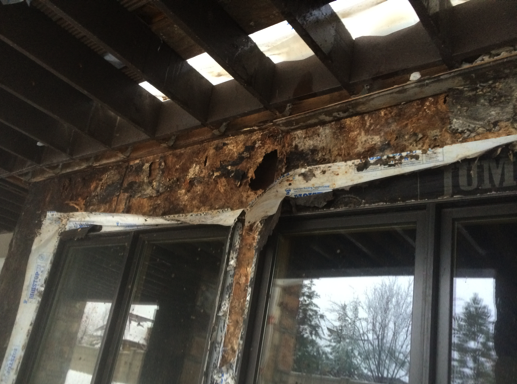 New construction is exciting. Whether you're starting from scratch or remodeling an existing building, you expect you'll end up with something better than what you started with.
But unfortunately, that's not always the case.
New, inexperienced, lazy or poorly managed construction companies can make mistakes, turning your exciting project into a nightmare. When it's your home they're working on, the decision lies with you on how to deal with the aftermath. But when you live in a community with a homeowners association, it's the HOA that makes the decisions, not you.
And far too often, they make the decision to file a lawsuit. If the outcome of a lawsuit was that the wronged parties received restitution, I would be all for it. But I've seen these lawsuits dozens of times, and I can assure you, rarely do I see a happy ending.
Who Would Win? HOA vs. Construction Company
When an HOA files a lawsuit against a construction company for a construction defect, the result is not a pile of cash delivered to the next board meeting on the calendar. These lawsuits can drag on for years. And they're expensive.
Many area Utah law firms will take an HOA's case on a contingency basis, which means the HOA doesn't pay its lawyer until the construction company pays them. Good deal, right? No expenses for the HOA until it gets what it rightfully deserves.
Not exactly.
Legal fees aren't the HOA's only cost. They also have to pay for expert opinions, destructive testing, emergency repairs and engineers as the lawsuit progresses — not after it collects. This can get costly, leaving the HOA in danger of becoming insolvent.
I worked with an HOA in Lehi, Utah, that had to wait 14 years to collect the money they won. Once the law firm took their contingency fee, the HOA didn't have enough left to pay for the repairs the buildings needed. So the HOA prevailed, but they still lost.
The Challenge of Selling with a Pending Lawsuit
Further, the aforementioned lawsuit severely inconvenienced homeowners who couldn't sell their home for the 14 years it was going on. Selling a home that's tied up in a lawsuit can be nearly impossible.
During the time litigation is pending, property value is diminished. Even if the owner could find a buyer and was willing to take less for their home, banks often won't lend money on houses with construction defects.
The homeowner could rent out their unit, but then they would have no equity to apply toward their new home. With dues rising to pay for the lawsuit, it could be hard for them to cover the mortgage and the related expenses on what they collect in rent.
In fact, it can be difficult to pay these expenses even if they don't want to move, as soaring HOA fees can strain a budget until it breaks.
A Better Course of Action
Instead of filing a lawsuit against the construction company, HOAs would be better off repairing the defects on their own.
I know; it sounds unfair. The construction company was at fault; they should make it right. But should and will are two different things, and by making the repairs on their own dime, the HOA will usually end up spending less money.
Not only will they save on legal and expert fees and court costs, but they will be able to make the individual decisions about how to proceed during the repair work. A legal agreement or decision will frequently require the work to be entirely redone, when it could easily be repaired for a fraction of the cost.
If your HOA wants to put the time and effort into a lawsuit, there are steps it can take to mitigate unnecessary inconvenience and expense to residents.
Destructive testing is so-called for a reason — parts of a building that work fine are destroyed in the process of seeing whether they or other parts are sufficient or in need of repair. In performing this necessary step in the lawsuit, further damage is done and residents are made to suffer more.
I was recently on-site at a project where openings had been made in the homes' exteriors as part of destructive testing. While these openings had been patched, not all were patched well, and some leaked. The luckiest residents only had ugly patches on the exterior of their homes; the unlucky ones had leaks to deal with as well.
The shocking part? Residents had been living under these conditions for seven years, as the lawsuit dragged on with no end in sight.
A more sensible solution is to do the repairs at the time of the testing. Expose the issues, document them and fix them. You'll have an exact cost of repairs versus an estimate, and residents won't have to live with leaks or ugly patches.
So even if an HOA is convinced that a lawsuit is the way to go, it should, at the very least, repair the damage as part of the process rather than letting it fester for years, unchecked.
RAM Builders has worked on hundreds of home exteriors along the Wasatch Front since 1996. Some cost millions of dollars and others are starter homes. Regardless, no homeowner likes spending money to tear a home apart and put it back the same way it looked when they bought it. But being able to control when and how it is done makes this tough job a little easier.
A leak in your roof is usually related to the way the felt papers or roof underlayment were installed prior to shingle installation.
It's common for people to try to fix leaks on a roof by placing sealant over the exterior of the shingles. This may work in situations where a hole formed after the roof shingles were installed, otherwise the only way to permanently fix a roof is to remove the shingles, fix the roof felt and underlayment, then install new shingles.
To fix a leak that is coming in where the roof and another part of the homes exterior meet usually requires removal of the shingles and the adjacent part of the homes exterior. In this situation, the problem is probably related to the way the homes exterior underpayment and the roofs underlayment tie together.
When fixing a leak it's pretty common to see the two different exterior claddings underpayments just butt into each other, rather than overlap.
If you have a leak, either in the roof or where the roof meets another part of your homes exterior, sealant probably won't be a permanent solution. Only removal of the shingles and adjacent exterior cladding will allow you fully address the problem.
Ram Builders specializes in remedial construction projects such as these. Our ongoing association with top building scientists and forensic engineers gives us the unique knowledge to fix these types of leaks the right way! Contact us for a free quote.
Missing or improperly installed window flashing can cause major problems. Most of these problems go undetected for many years. When we are finally called out to the job, it is often too late…..
We see mold and organic growth in the driest desert climates. Trapped water in the wall system of a wood framed structure can cause significant damage.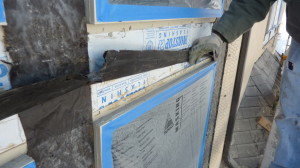 Using window flashing is a must, but installing it properly is even more important. The flashing at the top of this window is directing water right into the home.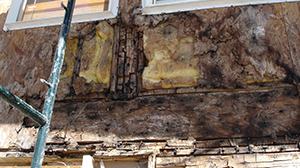 No window flashing was used on this home. No window leaking, no stucco cracks, just a musty smell inside the home.
Ironically, waterproof decks are where we find the worst dry rot in the shortest amount of time. There is a huge variety of waterproof decks offered by manufacturers and contractors. In Utah, every tile exterior deck that we run into has failed. Water gets in through the grout joints and into the grout bed under the tile. With Utah's freeze thaw cycles, major failure can happen very quickly. Other waterproof deck systems that we see fail regularly are pre-manufactured sheet products that are installed directly over the deck substrate. These types of products have a seem in them every 4′ and the joints usually fail within a couple of years. The best waterproof decking systems are wet applied products that are mixed and applied on site and no joints are created. Unfortunately, even good decking systems fail when the product is not properly tied into the adjacent exterior cladding.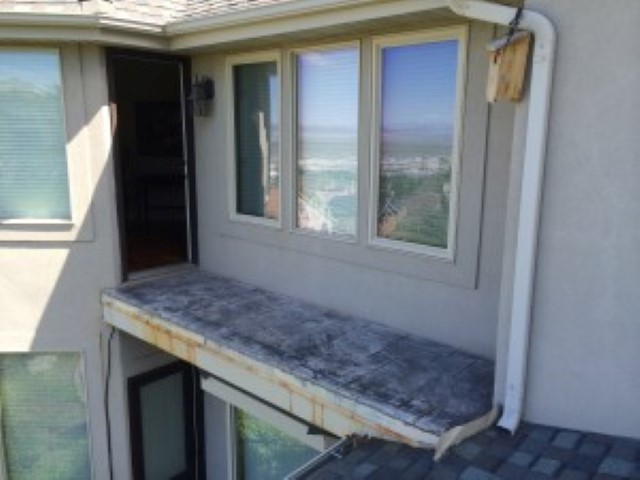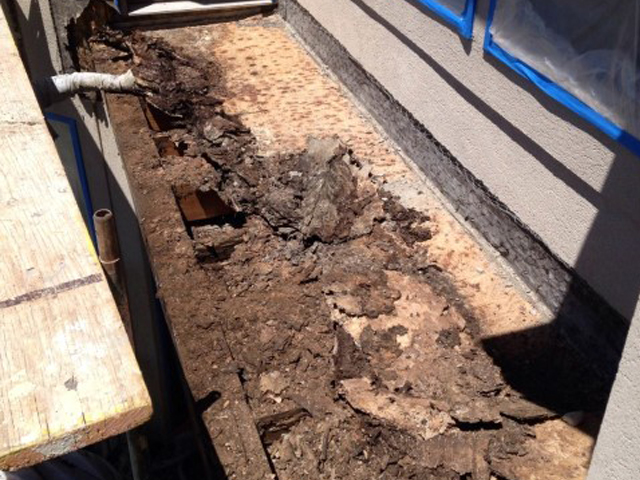 The reason for failure- Its not the way the deck product was installed, or bad material, its the failure to properly tie into the adjacent exterior cladding on the home or building. All exterior cladding products have a moisture barrier behind it. If the waterproof deck coating does not tie into the moisture barrier correctly, water will get under the deck coating. The waterproof qualities of the deck will keep it from drying out, water is trapped, and the wood framing will rot.
These pictures are a example from a job we did in June 2014 on a home that is 5 years old. For more information and examples of waterproof deck, go to this page of our website- http://q33.0e1.myftpupload.com/services/remodeling-and-home-improvement/exterior-decking/