The summer months call us to spend time outside enjoying the lovely weather and soaking up some Vitamin D. As you're enjoying your outdoor time, maybe you've noticed a few issues with the exterior of your home that need to be addressed. Here are seven signs that your home could use an exterior renovation:
You feel like your home is looking dated – If you continually pull up to your house feeling out of place from the rest of your updated neighborhood, it may be time to give it a refresh. To keep your house feeling current and well loved, some exterior renovations may be necessary. It doesn't always have to be a huge project, even adding some shutters or updating the address numbers is all it takes.
The paint is starting to chip or flake – If you're noticing paint chipping or flaking, or maybe faded sections, this is a sign that your home is asking for some TLC. Often this is just a cosmetic issue and is relatively simple to fix. Before issues get worse, consider getting a quick coat of fresh paint on there.
The landscaping doesn't match the home – If you've spent a lot of time and money on a beautifully landscaped yard, you'll feel even more satisfied with the project if your home matches that look. If you're home looks run down but your yard looks immaculate, it's going to feel unbalanced.
You plan on selling the home sometime soon – The first impression of your home is the exterior. Realtors and buyers may not remove a home from their list because of an unattractive exterior, but they'll definitely think twice about it. Even if you don't plan to sell right away, if you know it's in the cards sometime in the future, start with little renovations now and keep up on it so you can enjoy the upgrades before you put the for sale sign up.
The inside doesn't match the outside – Many of us are guilty of spending a lot of time and money on interior updates while forgetting about the outside. If you've upgraded several areas of your home but have neglected the outside, now's the time to remedy that. Curb appeal matters, so avoid putting the exterior on the backburner.
Pests or insects are getting in – Bugs do find a way to get into homes regardless of exterior quality; however, if you start to notice a shift and you're seeing more pests or bugs than normal, it may be time to consider an assessment on the openings of your home like doorways, windows, or chimney crowns.
Your roof is leaking – Homeowners should never ignore a leaking roof, and it won't simply go away or get better with time. We know that roof repair or replacement is intimidating but ignoring the problem will only create bigger issues.
Renovating the exterior of a home doesn't have to be a dreaded project. Make it a rewarding and positive experience by using the experts at RAM Builders Stucco and Exteriors.
Love it or hate it, the painted exterior brick trend is here to stay. And it's not just common with freshening up older homes. We have seen many people build brand-new, custom homes with a basic brick solely with the intention to paint it. Painted exterior brick can make a home look fresh, clean, and unique, sometimes even transforming the entire look of the home. We know it's not for everyone, but if you're interested in doing it but nervous about the commitment, here are some pros and cons to help you make your decision:
Pros of painting your brick
Painted brick can boost your curb appeal. If you have a brick home and you just don't love the color of it or the brick is very outdated, there are numerous options for changing the color and giving it a fresh look. Greys and whites are very common right now, but you shouldn't feel limited to those choices. Be creative, but purposeful and intentional, in the color choice and stand out from the other cookie-cutter homes.
Protects and makes it easier to clean. A high-quality paint can protect your brick from weather conditions and fading because it adds a layer of coating that helps prevent water from getting into the brick. It's also a smooth finish, which makes cleaning a breeze and helps to keep dirt and debris from sticking to your home.
It covers cosmetic issues. If you're in an older home with some cosmetic blemishes (or exterior damages you have repaired properly and now want to cover up), painting can give it a fresh, clean slate. You don't want to attempt to cover major problems that need to be repaired, of course, instead use it for cosmetic issues and to liven up the home overall.
Cons of painting your brick
There is no going back. If you decide to paint your brick, be prepared that you won't be able to take it off. This is not a decision to take lightly, so you must be absolute in your decision before you paint. You can, however, change the color any time you want.
You will need to repaint. Even if you love the color, you'll need to repaint it every few years to keep it looking amazing. The paint will flake and fade over time with typical wear, and to keep your home as beautiful as it was painted on day one, you'll want to freshen it up as needed. Keep the same color or use it as a chance to change again if you want. A professional job with high-quality paint will ensure the longest lasting project.
You may need to clean your exterior more often. Depending on the color, it may be easier to see dirt and debris. However, cleaning isn't difficult with a nice pressure washer, so if you decide to paint, add one of those on your shopping list.
With most home projects, the key is doing it right. If you decide to paint your home, hiring our team of professionals ensures you will have a great outcome on your project.
Spring has sprung, and it's the season of rebirth and regrowth. Continue the feeling by bringing the new to the exterior of your home, too. The exterior of your home is the first impression everyone gets, and you want to spend some time working on the curb appeal. Here are some suggestions for some spring updates for your home:
Architectural Accents
Adding some architectural accents can be as budget-friendly or extensive as you want. With durable foam options, you can choose any design and style you want. Create an appealing style upgrade around your windows, add some decorative columns along a porch or patio, or bring a customized casting design to explore a variety of creative options. Accents can bring a whole new level of sophistication to a home's exterior.
Updating Paint Colors
Painting portions, or all, of your home can dramatically change the look of your home. Painting brick has been popular for a while, and we don't see it going out of style ever. Brick homes are beautiful, but if you hate the color, it's not as big of a project to change as you might think. Painting old brick can freshen up a home in a big way. Stucco is very easy to repaint and looks amazing. Whatever the exterior of your home is, if you want a color switch, it's doable. And spring is just the time to do it.
Repair and Patch Stucco
Stucco is a popular material in Utah, and it's a great product. When taken care of, it can look beautiful for a very long time. Take some time to assess your stucco and see if there are any problems arising. Patchwork is relatively easy and doing it before anything major happens will prevent you from having to spend a lot of money later for problems that eventually lead inside, too.
Replace Wood Siding with Stucco
If your home has old wood siding, consider replacing it with stucco, which is easy to maintain. Wood siding is lovely, but it requires quite a bit of care and maintenance. If you've had enough of that, replacing it with stucco can update your home while also making it easier to maintain for throughout the future.
Waterproof Decks and Make Repairs
You'll soon be gathering outside now that warmer weather is upon us. Wooden decks require some annual maintenance to keep them looking great and lasting a long time. With Utah's weather patterns, you want to stay up on the maintenance for your wood decking. Keep up on repairs and you'll have a useable deck for years to enjoy.
Consider Your Concrete
If you currently have concrete areas of your home, check them out and see if they need any overlays, lifting, or repairs. If you'd like to add some concrete space in your yard, now is a great time to get your project on the books. RAM Builders is happy to address concrete projects large and small. This spring don't forget the exterior of your home when you start the spring cleaning process.
Trends may come and go, but you can still be "trendy" while also staying timeless and classic. This year, a lot of the great trends we're seeing around the country are just that—timeless. Some trends are better left undone, and the "go big or go home" mentality is not always the best when it comes to such an expensive and large item as a home. You can still pack a beautiful and current punch with an exterior remodel while also feeling secure that you won't want to redo everything in just a few years.
Let's talk colors. The color of your home is a huge deal, whether it's brick, stucco, siding, or a combination of materials. White has been huge for a while; you've seen it everywhere – maybe you even live in it! White is going stay, but this year it's going a bit softer. Think warmer whites and light creams (not beige or tan though) this year instead of the stark whitest of whites. The contrast with a dark or even black is also looking like it'll stay. It's a classic look that is pretty on basically every style from farmhouse to contemporary and French country to colonial designs. If you love the contrast but are worried to get in too deep, go for a color blocking method, which allows you to experiment with your contrasting desires without going too much. Other color options that will likely remain popular include neutrals that are soft and blend into nature, such as subtle greens and blues. If you're in an older home, simply painting the brick, siding, or stucco will completely transform your home. Bring your ideas to us—we have lots of experience and can provide great advice.
How about textures? Adding some texture to your exterior is a great way to bring a classy and expensive look to your home. Wood trims, stone sections, or brick accents are great options. This year we're seeing a love for copper which is beautiful on the eyes but not so much on the pocketbook. There are many options even if you're on a tight budget. Faux accents are readily available and when applied correctly, they can look just a gorgeous as the real thing. If you want to mix textures, this is a great year to do it. You'll want a builder you can bounce ideas off of to make sure you don't get too much going and to help you find materials that go well together. Adding cosmetic textures is a relatively inexpensive way to update your home.
The modern minimalist. Minimalist design has been a popular interior design trend for a while. We're seeing a desire for a similar look on homes' exteriors. We know this design can get very bold very quick, but don't be afraid to add in elements somewhere on your home's exterior. Think monochrome lighting, more windows, simple and clear geometric lines, and simple yet elegant features.
Redesigning or remodeling the exterior of your home is a big project that can change the whole look of your home. Our professionals can deliver whatever new look you want for 2022.
Here at RAM Builders, we do a lot of exterior work. From stucco to brick, roofs to windows, and everything in between, we handle it all. Utah has some intense weather patterns, and these patterns can wreak havoc on a home's exterior. Water in unwanted places in and around your home is not a good thing. Sometimes these liquid issues seep inside the home, but don't worry. We can repair damage inside your home as well as outside. Whether you left sprinklers on for too long or mother nature took her toll, RAM Builders can help.
Dry Rot Damage
We see a lot of homes along the Wasatch Front with dry rot damages. Dry rot is when the wood inside or outside your home has decayed, generally by a fungus, which diminishes the strength of the wood. Repairing the dry rot is only part of the solution process. Afterward, repair of the drywall must take place. Drywall repairs may seem like an easy DIY project, but there are a lot of considerations to keep in mind before tackling this task. Experienced drywall repair specialists know how to repair and install drywall so that you can't see the seams or the heads of the drywall screws popping out. They can see the big picture from start to finish. For a seamless and smooth look, trust a pro.
Stucco Leaks
Utah is fairly dry overall, but we do see heavy rainfall occasionally and very heavy, wet snow in the winter months. Stucco leaks are common, especially if it was installed poorly. (To prevent poor installation, call RAM Builders to make sure it's done right!) When water gets underneath stucco, it softens the stucco and creates bubbles or cracks. Stay on top of the health of your stucco by getting it assessed annually and paying attention to any signs of wear throughout the year. If you didn't notice water leaks in your stucco outside, you're sure to notice the issue once it gets inside your home. It's common to see drywall damage especially around the head of windows if the exterior stucco has failed. You'll need to get the leaking areas repaired outside as soon as possible then have an expert make sure the fixed drywall inside is faultless and durable. To tackle the entire project with ease and proficiency, give us a call.
When fixing drywall, it's important to ensure paint colors and wall textures match and that all seams are flawless. RAM Builders is meticulous, and our crew is clean and respectful of your property. An experienced team like ours will get the job done quickly and efficiently without any stress of the "what ifs" or the worry of if the job is done right. If you notice any leaking or rotting issues on the outside or inside of your home, get in touch with us today. The longer these issues are put off, the bigger the repair project will be. Check out our client testimonials to see all the great things Utahns have to say about us.
There are numerous ways to improve your home, and two areas that provide a great return on investment are upgrading windows and upgrading exterior doors. These enhancements are beneficial for anyone looking to improve the aesthetic of their home as well as efficiency. It's easy to paint your front door, and that can be an appealing and quick update, but if your door is old, it may be letting out a lot of air from your home. A common dad line is: "I'm not paying to cool down (or heat up) the entire neighborhood!" but that's what a lot of homes are doing without us realizing it.
Benefits of Door Upgrades
Leaking doors don't always need to be replaced. Sometimes they can be fixed with the proper application of tools and professional installation. For example, a metal or vinyl door pan can be added below a door threshold to reduce drafting or water infiltration possibilities. After the appropriate fixes, RAM Builders can paint or stain the door to make it look beautiful as well as function efficiently. Installing a new door may be needed for many reasons ranging from security needs to design desires. Three-point locking systems are common on newer doors, providing peace of mind to your family.
Over time, sliding doors can become stiff, making them hard to open and close. Large sliding glass doors that are single pane let out a lot of air from the inside of your home, making them very inefficient. Upgrading to a high-quality sliding door will reduce frustrations and will save you money immediately. Mother Nature will thank you, too. Your doors get a lot of wear and tear, making it one area that you don't want to cut corners.
Benefits of Window Upgrades
Windows are a valuable upgrade for any home of any age. Older homes with original windows likely have resources constantly flowing out of the glass wasting your hard-earned money. Additionally, your home may sound louder with the inefficient windows letting in outside noises. New windows have a lot of benefits that go beyond efficiency and looks. They improve the comfort in your home by preventing drafts and excess dust to seep in and they can be easier to clean with a number of upgraded design options. Plus, they also make it a more pleasant experience for you to look outside while watching the weather roll by or the kids play in the yard. Many older homes have small windows, making the inside of the home feel dark. We can expand those windows creating much-desired light and openness for your home.
Window companies are common around Utah, but don't get taken advantage of. You want to pick a reputable and experienced company to ensure your windows are installed correctly and in a timely fashion. Often, it's not the cheapest or fastest option you want, especially when it comes to an important upgrade like this. RAM Builders can update and upgrade anything the outside of your home needs. No matter the size of the job, call us today for a free assessment and quote.
Listing your home? Curb appeal is in the top five priorities for most buyers in Utah. We know we're not supposed to judge a book by its cover, but it's a tendency of humans to get a little stuck on first impressions. The exterior of your home is the first things buyers see. In their minds, if the outside doesn't look well maintained and taken care of, the inside probably looks the same. Often this isn't the case but keeping up on the exterior of your home will do nothing but add value and charm to it, and it will draw wanted attention when it comes time to put it on the market. This doesn't necessarily mean that you have to do a full exterior remodel to get showings. Sometimes all it takes is solid yard upkeep, power washing your porch and driveway, and cleaning out the gutters. But if your house is indeed in need of some repairs, it's better to get on it right away before bigger problems arise. Plus, if you're selling your home, the buyers will likely add necessary repairs into their offer, which means you may need to fix it before close or take it off the sell price anyway.
What to Look Out For
If you have stucco on your home, it's natural for some wear and tear to happen due to Utah's varied climate. Cracks let in moisture and can cause extensive damage if not remedied. Even if your stucco looks good, it's imperative that you get an independent stucco inspection in case something is lurking below that surface that you may notice. Before listing a home, get your exterior checked out if you have any concerns at all.
Another spot to check is your chimney area. This area often goes unnoticed until it's too late. What we often see is a failure with the caulking on chimney caps, which allows water come in. Water is never your friend when it comes to the structure of your house, and rotting is an expensive yet necessary fix. Assess your chimneys yearly to see if everything is sealed off and secure.
Roof repairs are common amendment items on home purchasing contracts. Roof repairs can be localized to just the problem area, but sometimes repairs are extensive enough to require a full roof replacement. Make sure you get an honest company that won't cover up problems but will take the time to fix projects with the right materials to ensure the job is done correctly.
When it comes to your deck or patios, if it's made of wood, it must be protected properly. Water finds its way through any flat surface, and we all know standing water and wood decks do not mix. With proper protectants and durable sealing, decks can stay beautiful and problem free for many years.
Final Touches
Before you pull together some pretty décor outside, make sure your major structural aspects are in good condition first. Covering up problems never work out, so be sure to tackle any concerns you have before you put your home on the market.
Sure, icicles are pretty. And as kids it was fun to use icicles as swords or find the biggest one to see how heavy it was and show all our friends. But now that we're the ones paying for roof repairs, icicles have lost their magical appeal. Icicles are a sign of poor drainage on your roof, possibly creating major issues such as an ice dam. Take note: you can still have an ice dam on your roof without the presence of icicles.
Factors such as the direction your home faces, the pitch and angles of your roof, and areas where it remains shady for a good part of the day can affect how the snow melts off your roof in the wintertime. The warmth from inside your home can seep out of the roof, which makes the snow melt and drip. You want the snow to melt and fall off your roof, but sometimes this doesn't happen, and the water gets stuck at the eaves and refreezes. An ice dam forms creating a run-off and refreeze cycle that can cause damage to your shingles, gutters, and even inside your home.
If you see icicles forming, respond quickly. You can tap small icicles off your roof before they get too big but be gentle as to not cause more damage. Damage to your roof is an inconvenience, but a personal injury from falling icicles is far worse. Additionally, if you use a ladder to remove icicles, prop it up in a secure location, make sure you don't step on any icy spots, and have someone below you to help out. You may also want to check the insulation inside your home to make sure everything is sealed well. In the fall, clear out your gutters for better drainage pathways.
It's common in Utah to get a big storm with heavy, wet snowpacks. If it's safe to do so, you can climb on your roof and remove the snow with a shovel or rake. Decide beforehand where you want the snow to land as you shovel it off your roof. Don't use ice melt products or ice-breaking tools on your roof—these don't just damage your shingles, they destroy them, forcing you to redo an entire roof.
Being proactive about icicle and ice dam prevention will save you money and headaches in the future. Here at RAM Builders, we can install a self-regulating heat tape on all the potentially problematic places on your roof. Our team knows where problems are typical and can place the tape only where necessary. Self-regulating heat tape turns on once temperatures fall below 40 degrees, which is much of the winter in many places around the Wasatch Front. We use commercial grade heat tape, which means it is GFI protected, doesn't need to be always left off, and is durable. Most tape we see in hardware stores is poorly designed and doesn't work until the temperature falls before 19 degrees. For all home related questions, reach out to us today.
Remodeling your current home is exciting and overwhelming all at the same time. You only want to trust an expert when it comes to investing in such an important asset. Since 1987, RAM Builders has proficiently served Utah with home exterior installation and remodeling including construction repairs, stucco repair and replacement, chimney repair, soffit and fascia installation and upgrades, and more. Too often we see an exterior "remodel" that was only superficial or cosmetic, but our team ensures we fix every problem fully without any unnecessary additional items or unreasonable rates. We employ a team of experts, not unpredictable subcontractors, so we stick to our timelines with our highly trained crew.
We understand how frustrating repairs and remodeling can become, with all the complexities and emotions that come with it. Our team is honest and kind, putting our full attention into your project to ensure your satisfaction. At the end of your remodeling project, we know you'll love your new-to-you home. Since we specialize in remodels, we understand that your home is occupied and already landscaped. We are sensitive to these needs as well as concerns about noise and mess. We ensure our employees are clean and respectful of your property, guaranteeing you won't need a landscaper to come in and fix our work area. We also use scaffolding in order to keep your garage and entry doors around your home open and unobstructed.
Our remodeling improvements range from full home makeovers to common touch-up repairs and renovations. A common exterior issue we repair is water damage from leaks. Properly joining connections and tie-ins is critical to the longevity of the exterior finishing on your home. Ensuring this process is done correctly is a top priority at RAM Builders, which will provide a longer lifespan to your finish work and will look gorgeous for years to come. We will handle these repairs as needed during your remodel making sure you're remodeling is done correctly for enhanced durability and beauty. With Utah's real estate market booming right now, investing in your home is a wiser financial choice than selling and buying high. Plus, updating your home brings new life into your space and creates a positive atmosphere. Something relatively simple like changing the color of your stucco can give your home a completely new feel.
Our experienced employees also specialize in architectural accents. We love to design and install custom detailed castings to add personality and class to your home. Copper roof accents add value and an artistic curb appeal to your home that is rich and warm. Decorative "foam" accents can be tailored to your home to creative individuality and style, but don't be fooled by the word foam—these are covered with fiberglass mesh and cement for endurance and look amazing when done professionally.
Give us a call today at 801-796-9699 and see why we have been Utah's top choice for exterior remodeling for well over thirty years. Since we're a team of employees, not subcontractors, we take ownership in every project we do with a full-time staff, specialized tools, extensive knowledge and experience, and undeniable skill and craftmanship.
Cracks happen. You can't avoid them with stucco, but if you act quickly, you can minimize damage — and the cost of stucco repairs.
Why does stucco crack? If it's not due to something obvious, like an earthquake or a foul ball, you have to rely on some crack anatomy for your diagnosis.
Know your cracks. Here are four types and what should be done about each, if anything.
1. Hairline Cracks — As you can probably guess, if you're going to have a crack, this is the best kind to have. Like an ER diagnosis of a painful ankle injury, a hairline crack is not serious. It's about one-sixteenth of an inch wide and is common in new homes in particular. You'll see fewer hairline cracks with older homes, built when 2-by-4s were actually two by four, and they were dried in a kiln before being used, so warping and twisting were minimized.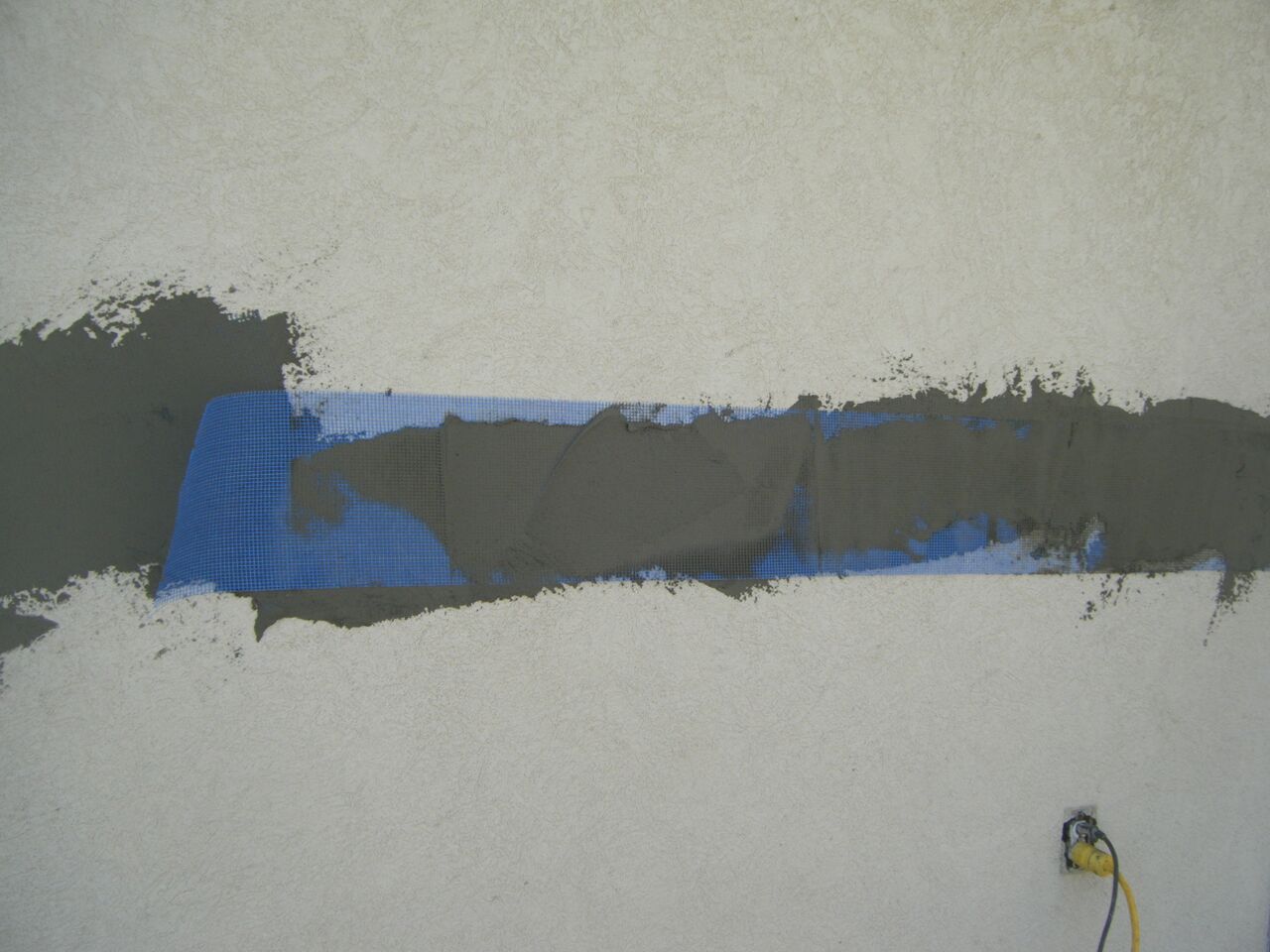 2. Patterned Cracks — If your stucco is cracked in even lines or squares, it's most likely due to the lath underneath. If it wasn't nailed down properly or somehow came loose, it can cause the stucco to crack this way. Although the only solution for this is to remove the stucco and reaffix the lath properly, this type of damage is usually found in isolated areas and doesn't generally affect an entire wall.
3. Spider Cracks — You can likely imagine what these look like. Similar to spider veins and spider plants, spider cracks are long, twisted lines through your stucco finish. You never want to see these. They're usually an indication that the installation was botched somehow — the stucco was improperly mixed, it was applied in less-than-ideal weather conditions and/or it dried too quickly. Your installer should be held accountable for a problem like this. It may be possible to fill the cracks with caulking and cover the entire surface with an elastomeric coating, but this doesn't always work. Get an expert opinion, and don't let your installer put you off or try to get away with a Band-aid fix.
4. Diagonal Cracks — You usually see these emanating from the corners of windows and doors, as with plaster. These types of cracks can signal more of a problem with your structure than your stucco. Diagonal cracking around openings is often related to shift or movement. If you have several of these, or if they are especially wide, you should get an inspection done to certify the integrity of your structure before you embark on any repairs.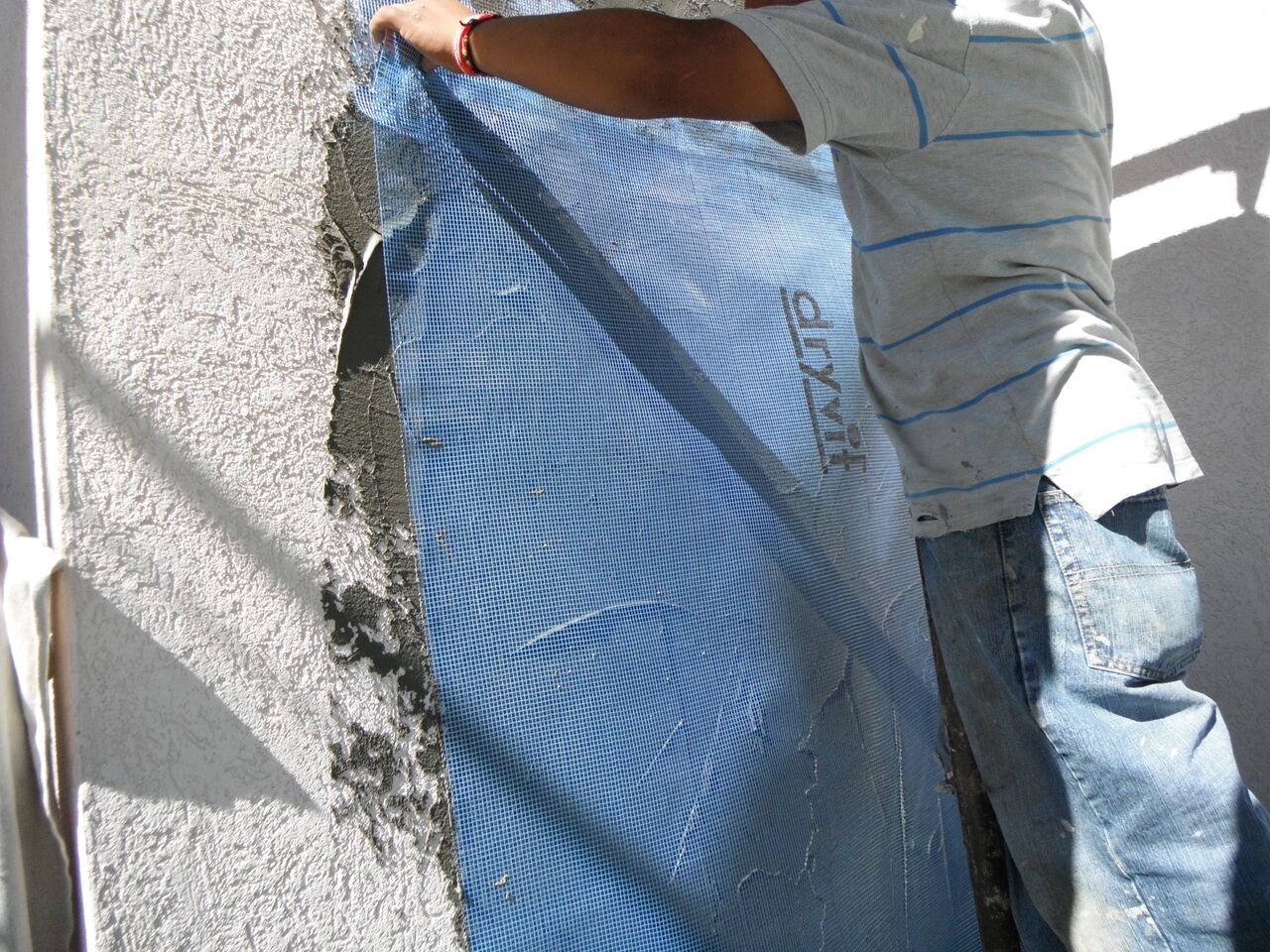 If you see any cracks in your stucco, contact the experts here at Ram Builders. We can come out and let you know if your cracks are serious or merely cosmetic, and give you an estimate for repair. You don't have to live with cracked stucco — call us today and start down the path to a smooth, crack-free exterior.